Street Retail Space Is Currently Available!
1,220 SF available at $15-$20/SF/YEAR, 60 Month Lease
- - - - - - - -
The Temple Building project has carefully contemporized historical form with modern function and it represents a thoughtful integration of modern amenities into a turn of the century space. The end result of this metamorphosis is a vibrant, multi-use location in the heart of downtown Rochester NY. From auditorium, to restaurant, to retail or loft-styled offices, we have the commercial, retail or office space to fit your needs.

The Temple Building overlooks the intersection of East Avenue, East Main Street, Franklin Street and Liberty Pole Way. The building is centrally located between the East End and the Saint Paul Quarter, as well as cultural treasures like the Eastman Theater. Many restaurants and health facilities, such as the Downtown YMCA are footsteps away, as well.

The Temple Building offers businesses:
High speed data and telecom infrastructure, including Rochester's first Wi-Fi network
Completely renovated mechanical and security systems
Commercial, Retail and Office Space from 675-20,000 square feet (contiguous) to 35,000 square feet (non-contiguous)
Interested in more information? Call us or fill out our quick form on the Contact Us page!
Commercial Space Available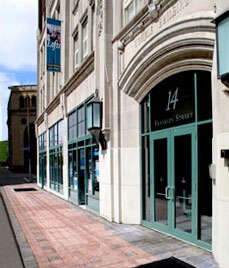 Locate your business in a Rochester landmark!
Contact Us