Heated,
Secure Underground Garage

The Temple Building's original cavernous, multi-floor basement was entirely gutted and rebuilt as a 3-level parking garage, complete with state-of-the-art security controls to ensure tenant safety and privacy. For a fee, any resident can reserve a parking space this underground heated parking garage with elevator access direct to your floor. This includes our exclusive valet service. As part of the building renovation, the freight elevator was completely modernized with new motor and cab. It is now primarily used as the private tenant elevator from the garage to all building floors. A garage door remote is necessary to access the garage and a key chain style proximity device or passcode are needed to access the freight elevator and individual building floors.
Commercial Space Available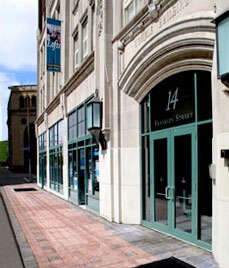 Locate your business in a Rochester landmark!
Contact Us