There are so many things to do, places to see and food to consume within walking distance of the Temple Building in downtown Rochester!
Branca Midtown is an Italian eatery branching off of its sister restaurant, Branca in Bushnell's Basin of Pittsford, NY. With a full Italian coffee bar and an authentic Mugnaini pizza oven, Branca Midtown provides fresh, house-made, handcrafted Italian food with cordial service for those on the go or for those looking for a relaxing dining experience.
Since its opening in 1922, the Eastman Theatre has always been Rochester's preeminent performance space, it offers over 700 performances annually including world-renowned Tony and Grammy Award winning artists.
Professional shows & public programs staged in a renovated 19th-century arsenal with a bar & cafe.
The Xerox Rochester International Jazz Festival is one of the nation's largest and fastest growing music festivals and one of the most exciting attractions of the summer.
The Rochester Red Wings are a minor league baseball team based in Rochester, New York. The team plays in the International League and is the top minor league affiliate of the Minnesota Twins. The Red Wings play in Frontier Field, located in downtown Rochester.
The Rochester Americans (Amerks) are a professional ice hockey team in the American Hockey League; the team is an owned-and operated affiliate of the Buffalo Sabres. The team plays its home games in Rochester, New York, at the Blue Cross Arena at the War Memorial.
Commercial Space Available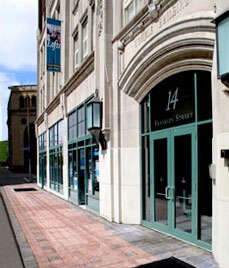 Locate your business in a Rochester landmark!
Contact Us