We've worked with a lot of partners and we're proud to recommend the below partner & local vendors!
Planning
Eliza Jane Events help you plan a fabulous wedding. https://www.elizajaneevents.com/
Coordinate with Eliza directly, 585-705-1141
All Occasions Catering & Events Planning. Pattie Taylor-Brown and her team will help you plan and execute your best event and provide catering, too.
Coordinate with Pattie directly, 585-244-2870, info@rochestercaterer.com
Food and Beverage
Our catering partner is Madeline's Catering. No food and beverage is provided as part of venue rental. https://www.madelinescatering.com/
Coordinate with Madeline directly, Madeline@MadelinesCatering.com, 585-288-3020
Chairs, Tables, Linens
House chairs are 21" wide, steel-frame, upholstered, and padded. Chairs included in your rental. Balcony seating is fixed. See seating chart.
Event furniture is available from various local providers, some listed below:
McCarthy Tents & Events, https://www.mccarthyevents.com/, 585-321-1000
Nolan's Rental Inc, https://www.nolansrental.com/, 585-787-2555
Spatola's Party Rentals, https://www.spatola.com/, 585-266-4200
Flowers, Décor
Erin Patrick McDonald has been doing flowers and events for years. https://erinmcdonaldco.com/
Coordinate directly with Erin, erin@erinmcdonaldco.com, 585-472-6072
Valet
Our valet partner, Valet Park of America, serves our Residential tenants in the building. They are available to accommodate your event as needed, with sufficient notice.
Coordinate with Valet Park of America, http://www.valetparkofamerica.com/, 866-888-2538
Commercial Space Available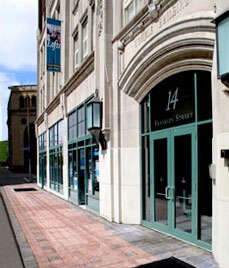 Locate your business in a Rochester landmark!
Contact Us